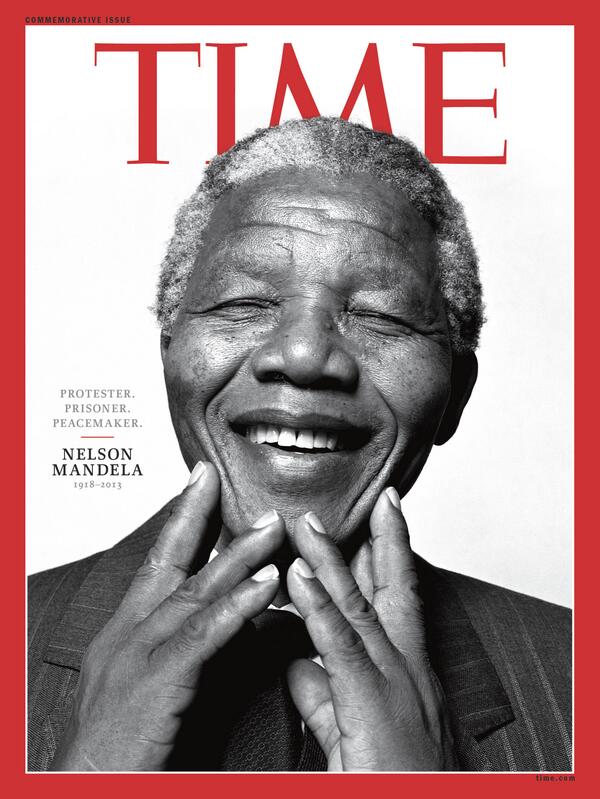 The outpouring of love for Nelson Mandela since his death on Thursday night (at the age of 95) has been nothing short of staggering.
Here is some of the press coverage . . . click the links to see the whole of any article.
From NPR's On Point with Tom Ashbrook:
We remember South African anti-apartheid icon Nelson Mandela, father of a nation.

Former South African President Nelson Mandela reacts at the Mandela foundation, in Johannesburg, South Africa, Tuesday June 2, 2009, during a meeting with a group of American and South African students as part of a series of activities leading to Mandela Day on July 18th. The anti-apartheid leader died in his home on Dec. 5, 2013.





Guests



From Tom's Reading List



NPR: Nelson Mandela, Inspiration To World, Dies At 95 — "From his childhood as a herd boy, Mandela went on to lead the African National Congress' struggle against the racially oppressive, apartheid regime of South Africa. For his efforts, he spent 27 years behind bars as a political prisoner. In 1994, after Mandela was elected president in South Africa's first democratic elections, Archbishop Desmond Tutu shook with elation as he welcomed Mandela to a rally in Cape Town.'One man inspires us all. One man inspires the whole world,' Tutu said at the time. 'Ladies and gentlemen, friends, fellow South Africans, welcome our brand new state president — out of the box: Nelson Mandela.'"

Bloomberg News: Nelson Mandela, Who Led South Africa Past Apartheid, Dies at 95 – "Released from prison in 1990, Mandela negotiated a peaceful end to the old regime with leaders of South Africa's white minority government. Three years later, he won the Nobel Peace Prize. He served as president from 1994 to 1999, before stepping down voluntarily. Mandela came to symbolize proof that seemingly intractable disputes could be resolved. Former Palestinian Authority President Yasser Arafat, East Timorese independence leader Xanana Gusmao and warring factions in Burundi all asked him to help mediate conflicts. On his part, Mandela never wavered from espousing non-violence after the settlement talks began."

Wall Street Journal: Nelson Mandela Dies at 95 – "It was as a prisoner that Mr. Mandela first became a rallying point for opponents of apartheid. After he was sentenced to life in prison in 1964, he spent more than a quarter-century behind bars, much of it in a maximum-security prison on Robben Island, off the coast of Cape Town.By the time he was released from a different prison in 1990, the tables had been turned. South Africa had become a pariah nation and Mr. Mandela would lead his country's re-embrace of a world that had spurned its racist government."
* * * * *
From
The Skinny
:



Feature by Bram E. Gieben.




Published 06 December 2013





Nelson Mandela, the former South African President and civil rights campaigner who led South Africa out of the apartheid era, passed away last night after an extended illness at the age of 95. Mandela was the South African presidency from 1994 to 1995, becoming the first black South African to hold the office. As a young anti-apartheid revolutionary, he was tried for treason in 1962 and imprisoned for 27 years. In the early 90s, he published his autobiography Long Walk To Freedom, and in 1994 was instrumental in setting up South Africa's first multi-racial elections. In 1993 he was given the Nobel Peace Prize. Since then, he has campaigned on issues such as poverty, sexual health, and other issues affecting his homeland.



Glasgow has a special relationship with Mandela – he visited the city in 1993 shortly after his release, and was given the freedom of the city in a ceremony which honoured him for his civil rights work, and in recognition of the long campaign to free him, in which the people of Glasgow were deeply involved from 1962 onwards. Mandela never forgot the solidarity the people of Glasgow showed towards him, commenting in his acceptance speech in 93: "While we were physically denied our freedom in the country of our birth, a city 6,000 miles away, and as renowned as Glasgow, refused to accept the legitimacy of the apartheid system, and declared us to be free." For a full account of Glasgow's relationship with Mandela, read this article on the BBC News site.
* * * * *
From
The Economist
's
Intelligent Life
magazine, an encore of an article from 2008 on the eventual death of Mandela (at his 90th birthday party).

Intelligent Life




From the Archive: every month, his foundation receives over a thousand requests for his help. Adam Roberts watches Nelson Mandela in action and talks to those closest to him


From INTELLIGENT LIFE magazine, Summer 2008

Double acts don't come much better. Nelson Mandela enters grinning from a door on the right and shuffles forward, one hand clasping an ivory-white cane, the other arm held by a blonde assistant. His eyes are twinkling but watery, his ankles are permanently swollen, and his knees hardly bend--the result of an accident in prison with a pile of seaweed. "Madiba!" murmurs an excited crowd, using his clan name. "Tata Madiba."

He makes it to the centre of the room and is met by the one person who can upstage him. Anyone sensitive to bright colours should look away now. As usual, Mandela is a tropical pensioner: white hair with a touch of grey; a white vest under a shirt of shimmery blue, gold and brown; a pair of gold pens in his top pocket. Archbishop Desmond Tutu, also smiling, bounces up. He is resplendent in full-length purple and his head is smooth, shiny, a contrast to Mandela's shock of white. Around Tutu's neck swings a golden cross, the size of a ping-pong bat.

Politicians and veterans of the struggle for democracy have gathered in Johannesburg to launch the celebrations for Mandela's 90th birthday, which falls on July 18th. The launch is in March: the festivities will take months, and will include a charity concert in Hyde Park, London, featuring Queen, Annie Lennox and leading African bands. Film crews and cameramen pack the room and late-summer sunshine pours through the windows as the two old men hold court. Tutu stands with his back straight, palms pressed together in front of his face, looking not so much like a bishop as a schoolboy imitating a bishop. Mandela steps forward as Tutu bows deeply from the waist and holds himself low, showing off his bald pate. Somehow he makes the gesture both respectful and slightly mocking.

Mandela: "I am a sinner."
Tutu (standing back up): "I will absolve you!"
Mandela: "If you clear the way, I can knock on the doors of heaven!"



The two men break up laughing and the room roars along. We are giggling about the impending death of probably the most popular person on the planet.
* * * * *
From The Week, all of the coverage from everywhere else:
The covers of newspapers and magazines are one of our most enduring public memorials to global heroes. Here's a sampling of how the world is memorializing Mandela.


By Peter Weber



When an icon like Nelson Mandela dies, "dead tree" journalism comes to life Twitter/The Week


The world is mourning the death and celebrating the life of South African icon Nelson Mandela in numerous ways, both publicly and privately. World leaders are paying their respects, people are sharing their favorite Mandela quotes and photos, and, of course, newspapers are updating and running their long-written obituaries for the 95-year-old anti-apartheid leader who went on to become South Africa's first black president.



In many ways, the front pages of newspapers and covers of magazines are our most enduring public memorials to world leaders and global celebrities. Here's a sampling of how print media outlets from three continents are memorializing the man South Africans reverently call Madiba (his Xhosa name) or Tata (father) . . . .