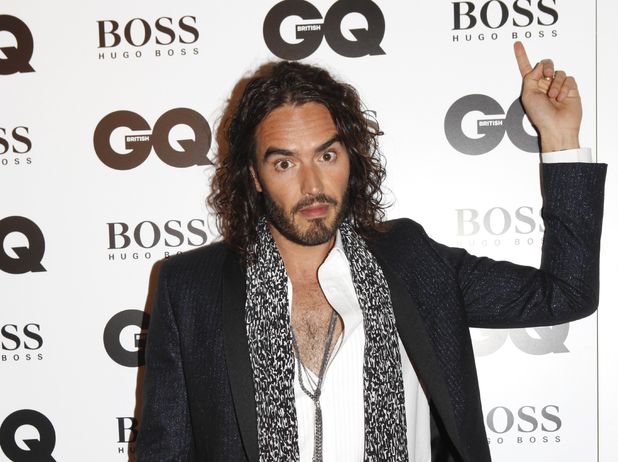 This is WHY Russell Brand deserves a Man of the Year Award, I'm just suspecting that
GQ
is not feeling so good about choosing him as one of their Men of the Year. I love when intelligence and wit combine to point out horrible things we'd rather not discuss and deal with, like Hugo Boss's history with the Nazis.
But they did give him the "Oracle" award - a word that comes from the latin verb
ōrāre
"to speak," and generally referred to the priest or priestess uttering the prediction(s) of the future. According to
Wikipedia
:
Oracles were thought to be portals through which the gods spoke directly to people. In this sense they were different from seers (manteis, μάντεις) who interpreted signs sent by the gods through bird signs, animal entrails, and other various methods.[1]
I suspect the people at GQ were not fully versed on the role of the Oracle as a vehicle for the gods to speak directly to humans. In his own way, Brand was pointing out an ugly truth that no one in that room, and especially the organizers at GQ, wanted to hear.
Anyway, this was posted on their "
Winner and Losers Live Blog
":
He must have seen this coming... Oracle of the Year goes to Russell Brand, handed over by John Bishop. This will only fuel his Messiah Complex. He accepts graciously: "Thank you for the Oracle Award... which honestly sounds made up."
But the links are dead-ends - seems they took down whatever information they had on their site about the award or this year's winner.
Apparently, Brand was
kicked out of the After Party
for his comments.
By

Rossalyn Warren

(More from Rossaly)



When comedians put people on the spot, it's always a tad awkward. But when one of the most recognizable comedians in the world rips into the history of one of the most famous brands in the world on stage at an expensive event that said expensive brand is sponsoring ... just see for yourself.





Lots of companies have this same black mark in their history books, but it's hard to forgive some things. And it's kinda neat to see this company not being let off the hook.
His comments: "Any of you who know a little bit about history and fashion will know that Hugo Boss made the uniforms for the Nazis. The Nazis did have flaws, but, you know, they did look fucking fantastic, let's face it, while they were killing people on the basis of their religion and sexuality."





After this, Russell Brand tweeted:




Russell Brand

✔ @rustyrockets

GQ editor: "What you did was very offensive to Hugo Boss."